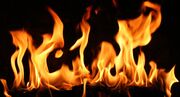 Quick Summary
Edit
Firey-Pult is a Pult that shoots fire. Fire does 3 damage but does 1 damage every 1 second after it hits a zombie. It's like an over-time plant. When a zombie is on fire, a flame is beneath it's legs.
Statistics
Edit
HP: 6
Damage: 3, than 1 each second
Sun Cost: 400
Special: shoots fire that can do over time damage.